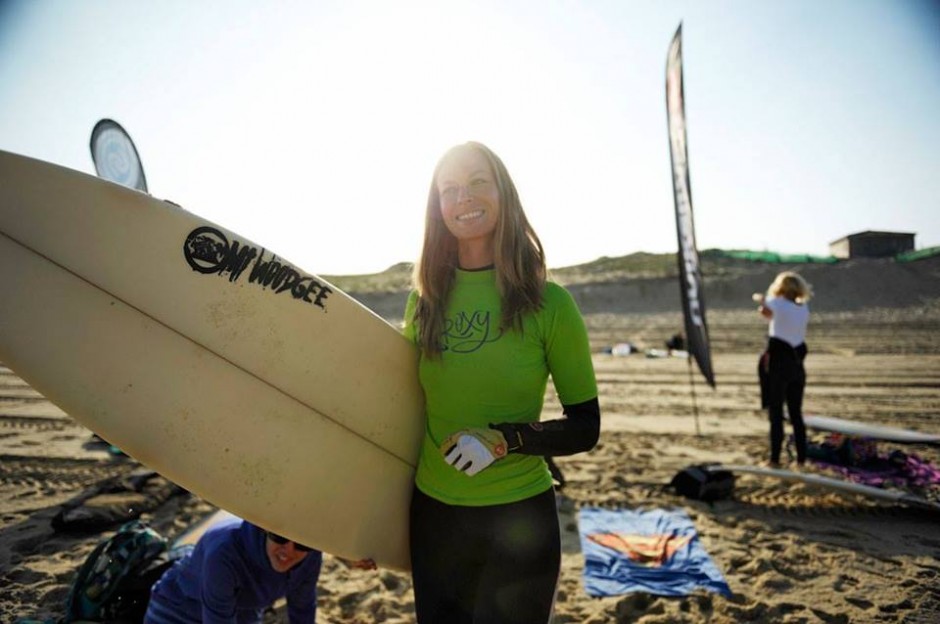 For English version, scroll down, please.
Článok o ďalšej slovenskej girl, ktorej to jazdí, je trochu mimo aktuálneho ročného obdobia. Aj tým čo šport nič nehovorí, by sa určite radi vybrali do destinácií, ktoré pravidelne navštevuje. Aj keď by sa len vyvalili na pláži.
Surfing je šport, ktorý v našich končinách nie je úplne bežný. Aj napriek tomu je na Slovensku niekoľko nadšencov, ktorí si tento šport zaľúbili natoľko, že pre neho obetujú každú voľnú chvílu. Jedným z takých ľudí je aj Michaela Kančevová. Celé sa to začalo pred desiatimi rokmi, kedy cestovala so svojou kamarátkou, a dnes už surf buddy, Sašou po Portugalsku. Na juhu tejto krajiny našli krásnu pláž Praia do Amado. Tento surf spot a samotné surfovanie ich zaujalo natoľko, že si hneď zaplatili trojdňový kurz surfingu. Nasledujúce letá trávili práve na tomto mieste, kde sa stále zlepšovali v surfovaní a rástla ich vášeň k tomuto športu.
"Ťažko sa to popisuje, ale aj po získaní určitých zručností, sa dodnes teším z každej jednej vydarenej vlny rovnako, ako z tej prvej, ktorú som zjazdila prvý krát v Portugalsku".
Surfing sa Miške páčil aj predtým. K vode mala vždy blízko, od šiestich rokov sa venovala závodne jachtingu. Pri ňom vydržala aktívne do devätnástich rokov. V poslednom ročníku na vysokej škole si chcela ešte trochu užiť bezstarostný život, tak sa rozhodla, že na rok preruší štúdium. Rozhodla sa stráviť rok v Austrálii, kde samozrejme išlo hlavne o surfovanie. Po návrate na Slovensko vhupla do pracovného kolotoča. Je project manager v developerskej firme a času na akékoľvek iné aktivity nie je až tak veľa. Hlavne nie na časté cestovanie a jazdenie na vlnách oceánu. Našťastie ju táto práca baví a hlavne, na Slovensku sa postupne vytvárajú podmienky pre trochu iný druh surfingu a tým je riversurfing, alebo surfing za motorovým člnom.
"Nie je to síce oceán a palmy, ale aj hnedé vlny Dunaja vedia potešiť".
Napriek pracovnej vyťaženosti toho stíha pomerne dosť. Vždy keď to je možné a počasie aspoň trochu praje, vyberie sa po práci do Areálu divokej vody v Čunove na umelú vlnu, slovenskými riversurfermi nazývanú ako Čuňovka. Vždy keď sa dá, vycestuje na spoty, ktoré tomuto športu svedčia trochu viac. Aj keď Čuňovka je pre ňu jedným z obľúbených miest na jazdenie, najradšej si na vlnách oceánu v rámci Európy zasurfuje v Portugalsku alebo Francúzsku. Počas roka navštívi viaceré miesta napríklad Bali, Kostarika, Salvádor, Srí Lanka a iné. Z týchto miest sa dá veľmi ťažko určiť, ktoré by bolo pre ňu top, pretože všade sú fantastické vlny. "Austrália je známa dobrými podmienkami, ale spoty tam boli neustále preplnené od veľmi skorého rána až do západu slnka." Bali by odporučila hlavne kvôli spotom rôznych levelov, ku ktorým netreba cestovať ďaleko, život tam je lacný a popri tom stretnete veľa milých ľudí. "Bali je osvedčené, tam sa vždy rada vraciam."
Svoje skills ukázala na viacerých pretekoch. Vrámci Slovenska nemá v riversurfingu konkurenciu. Zúčastnila sa všetkých, doteraz troch, ročníkov Majstrovstiev Slovenska v Čunove, kde získala vždy prvé miesto v kategórii ženy. Hlavne zo zvedavosti skúsila Majstrovstvá Európy na umelej vlne v Mníchove. Získala veľa skúseností, skúsila inú vlnu a namotivovalo ju to ešte viac sa zlepšovať. Verí, že sa dočkáme aj na Slovensku väčšej a hlavne agresívnejšej vlny, ktorá by prispela k progresu slovenských jazdcov a mohli tak konkurovať aj tým zahraničným. Čo sa týka pretekov na "ozajstných" vlnách, zúčastnila sa niekoľkokrát Majstrovstiev Slovenskej a Českej republiky vo francúzskom Hossegore. Konkurencia na tomto podujatí je dosť veľká a baby z čiech majú veľkú výhodu, keďže veľa z nich dlhodobo žije pri oceáne. Ale umiestnenie v prvej polovici bolo tiež vždy úspechom.
Article about next riding girl is little bit out of the actual weather. Also those who are not very sporty will go to destinations, which she visits often. Maybe just to lay down on the beach.
Surfing is not very common in our region. Even though there are some enthusiasts in Slovakia, who like this sport so much, that they spend all time for it. One of those persons is Michaela Kančevová.
It all began about ten years ago, during traveling through Portugal with her friend and now also surf buddy Saša. They found very nice beach Praia do Amado on the south of this country. This spot and surfing was very interesting for them, so they decided to pay for a three day surf course. Next few summer holidays was it their place, where they improved their surf skills and the passion for this sport was growing.
"It is hard to describe, but also after getting some skills, I am always as happy of every wave as I was when rode on my first one in Portugal".
For Michaela was surfing always interesting. She was always near water, she competed in yachting since she was 6 years old. She did it till her 19 years. In the last year of university, she decided to prolong her careless student life, abound the study and go for one year to Australia, of course mainly for surfing. After returning home she started to work as a project manager in developer company. There is no more enough free time for favorite activities, especially for traveling and riding on waves of the ocean. Luckily she likes her job and also in Slovakia are growing possibilities to surf, even it is another kind of surfing, river surfing and surfing behind a boat.
"It is not an ocean and palms, but brown waves of Danube can do me happy also".
Despite a lot of work, Michaela can manage it well. Always when she has a time and the weather is fair, she is heading to Areal of wild water in Čuňovo to man-made wave. Everytime when it is possible, she travels to spots, which sit little bit more to this sport. Even if Čuňovo is one of her most favorite place for riding, best place to surf in Europe is in Portugal or France. Over the year she visits more places as Bali, Costarica, Salvador, Srí Lanka and more. It is difficult to say which place is top for riding for her, because all have perfect waves. "Australia is known for good conditions, but all spots were always crowded from very early morning until the sun set". She will recommend Bali because of all levels of spots, which are easy to reach, life is cheap there and you can meet a lot of nice people. "Bali is proven, I always like to go there again".
She showed her skills on several contests. She has no competitors in river surfing in Slovakia. She participated on all three years of Slovak championship and always took first place in women category. Mainly of her curiosity she took part also on European championship in Munich. It gave her a lot experiences, she tried different wave and it motivated her to get even better. She hopes, that also in Slovakia will be bigger and more aggresive wave one day, which will help to progress slovak riders, to be more competitive in abroad. Contests on the "real" waves are together with Czech republic, more times was it in french Hossegore. Competition on this contest is quite big because czech girls are mostly living near ocean. Place in the first half of the starting list is always a success.