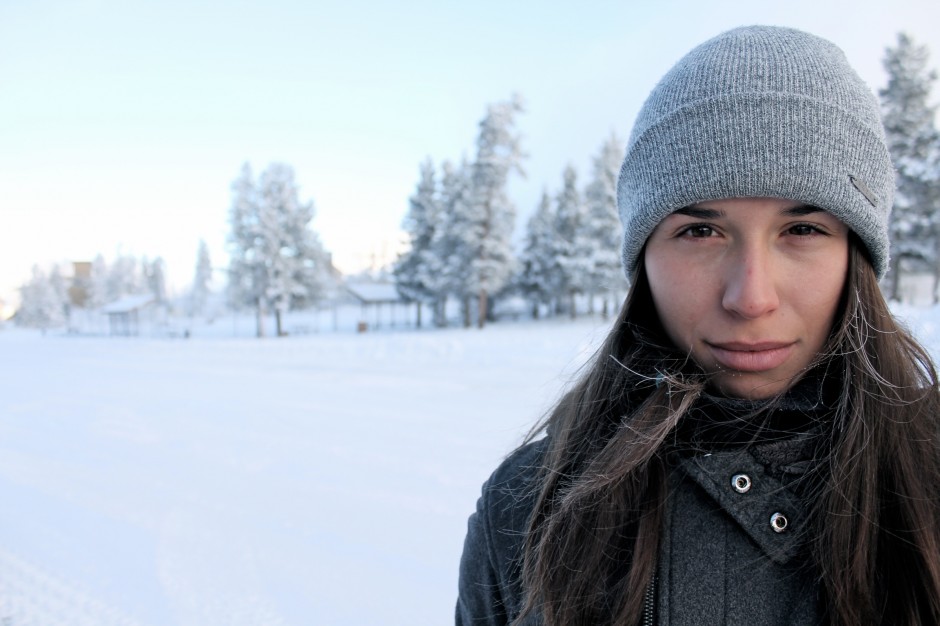 Zima sa k nám pomaly zakráda a s ňou prichádza aj ďalší ženský talent. Predstavili sme si wakeskate aj skate. Teraz si do zoznamu pre zmenu pridáme snowboard. A s ním skvele jazdiacu Klaudiu Medlovú. Keď vás neupúta svojím jazdením, určite to bude jej všade viditeľným úsmevom.
Klaudia svoje prvé kroky namierila k športovej gymnastike, ktorej sa venovala už od štyroch rokov. Tu nadobudla neoceniteľné základy k iným športom a hlavne snowboardingu samotnému. Gymnastike sa venovala síce do svojich 16tich, ale už ďaleko skôr prišlo prvé šúchanie na doske. Ako 10 ročná prvý krát okúsila čaro snowboardingu. Kde inde ako v Nízkych Tatrách. Jasná jej poskytla ideálne miesto na trávenie jej voľného času, keďže jej rodičia tam mali bufet. Po šúchaní po svahu prišli čoskoro prvé skoky, bedničky a raily v miestnom snowparku. Ako väčšina z nás, aj Klaudia mala hanblivé začiatky v parku plnom mladých ľudí. Poznáme asi všetci ten pocit, keď prídeme na miesto, kde väčšina už niečo dáva a niektorí slušne diktujú a my nič, len tiché základy. Ale pri športe, ktorý vás baví, človek ľahko vypne. Aj v tomto prípade tomu nebolo inak. Mladá slovenská snowboardistka jazdila pre radosť a užívala si skákanie aj keď so slušným rozbíjaním. Pri jej úsmeve a jazdení netrvalo dlho a Klaudia sa zoznámila a stala súčasťou lokálnej komunity. Chalani ju toho nesporne veľa naučili, čo je určite vidieť aj na jej terajšom jazdení.
Momentálne sa táto 20 ročná baba pochádzajúca z Liptovského Mikuláša venuje freestyle snowboardingu. To, že ju to neskutočne baví a napĺňa, je vidieť aj na jej štýle jazdenia. Či už je to jej BS Rodeo či iné triky, jej štýl určite pritiahne vašu pozornosť. Ostatne, o tom svedčia aj jej výsledky, ktoré si môžete pozrieť nižšie.
Winter is slowly coming and a another woman's talent is coming too. We introduced wakeskate and skate before. Today we change it for something similar, a snowboard. And hand to hand with a snowboard comes a girl with amazing riding skills, Klaudia Medlova. If she doesn't catch your attention with her riding, it definitely will be with her stunning smile.
Instead of snowboarding, Klaudia made her first steps to gymnastics in the age of 4. She learned valuable basics to another sports and mainly to snowboarding from gymnastics. She stayed as a gymnast till her 16teen, but first time sliding on a snowboard was a long time before. That catchy feeling of snowboarding first came at the age of 10. Nowhere else than at the Low Tatras. Ski resort Jasna gave Klaudia ideal place for spending her free-time. Her parents owned a cafeteria at ski resort. After slope sliding came first jumps, boxes and rails at local snowpark. As the most of us, Klaudia was also ashamed of riding in the front of guys riding in the snowpark for her first times. Everybody knows that feeling of visiting a new place where every guy is shredding his best and you know just some basics, you feel like a last looser unable to do anything. But when you do the sport you love, it's easy to just switch off and enjoy it as it comes and don't care. Klaudia was the same. Young snowboarder from Slovakia has ridden for her pleasure enjoying jumping around. Even she failed and scratched the quite a lot. Her lovely smile and riding caught attention soon and Klaudia met and became part of the local snow community. Guys showed her new tricks, took care of her and she learned lots` of stuff from them. It's easy to see at her style these days.
This 20 years old girl from Liptovsky Mikulas is a freestyle snowboarder now. The fact she enjoys it as much as possible is easy to recognise at her style. Her BS Rodeo or any other tricks catch your attention at instant. Anyway, the results speak instead of words as you can see below.
Výsledky/Results:
Overall FIS World Ranking 2014 in Slopestyle discipline – 9th place
Year Country Event Result
2014 Austria Final event of World Cup FIS – Slopestyle –  3rd
2014 Slovakia Final European Cup Štrbské Peso – Slopestyle –  1st
2014 Italy Nine Queens event . Livigno – Big Air – 4th
2014 Canada World Cup FIS Stoneham – Slopestyle –  11th
2013 Tukrey Junior World Champ. FIS Erzurum – Slopestyle – 8th
2013 Netherlands European Cup FIS Langraaf – Slopestyle – 2nd
2012 Switzerland O'Neill Evolution Cup – Slopestyle  – 4th
2012 Slovakia European Cup FIS Donovaly – Slopestyle – 1st
2011 Slovenia European Cup FIS Rogla – Slopestyle aj Big Air – 1st
2011 Spain World Championship FIS LaMolina- Slopestyle – 8th
2011 Austria Final of Rookie Tour Ischgl – Slopestyle – 5th
2010 New Zeland Billabong Bro Down SnowparkNZ – Big Air – 1st
2010 USA Dew Tour Breckenridge – Slopestyle – 6th
S prichádzajúcou zimou prichádza aj nová sezóna. Na ňu sa bude toto večne usmiate stvorenie pripravovať  v Rakúsku a koncom novembra by mala ísť do USA. A my jej môžeme len priať, nech jej to stále tak dobre jazdí. Tešíme sa na jej progres a nech ju to naďalej tak baví a zásobuje nás svojím úsmevom. 🙂
With upcoming winter also comes a new snowboard season. This always smiling girl is going to prepare for it in Austria and at the end of november she is going to USA. We wish her all the best and hope to see new tricks, smile on her face all the time and ability the enjoy it as she enjoys it now.
Sponzori/Sponsors:
Roxy
Nike
Viac sa môžete o Klaudii dozvedieť na jej Facebooku, Instagrame alebo na projekte Snowgirls .
For more info about Klaudia, check and find her at : Facebook , Instagram or Snowgirls project.